Meth OD Killed Florida Man, Not Alligator
Victim, 45, was discovered inside 11-foot reptile's mouth in canal
http://thesmokinggun.com/documents/bizarre/ford-alligator-autopsy-285013
DECEMBER 12–The deceased Florida Man whose partially eaten body was discovered in the mouth of an alligator died from a methamphetamine overdose before the 11-foot reptile discovered him in a canal in Polk County, according to an autopsy report.
In a related development, voting has closed for the 2019 Floridian of the Year award.
In late-June, the body of Michael Ford, 45, was found floating in the water on a Fort Meade property owned by a mining company. Part of Ford's body was in the mouth of a 449-pound alligator, who was subsequently trapped and killed by Florida Fish and Wildlife Conservation Commission agents.
At the time Ford's body was discovered, officials were unsure about the cause of his death. Investigators initially speculated that Ford, who did not work for the mining firm, drowned.
However, an autopsy released yesterday concluded that Ford died from accidental "methamphetamine intoxication" and that his corpse was subsequently set upon by the alligator (seen above). A necropsy revealed that Ford's left hand and right foot were inside the alligator's stomach.
The autopsy report does not address how Ford ended up in the canal on the fenced property (though a vehicle believed to have been driven by Ford was found nearby).
Ford, who lived in Frostproof, a Polk County city, is pictured above in a mug shot taken ten days before his death. He had been arrested for burglary and grand theft auto and was freed on $6000 bond. Ford's rap sheet also includes a 2018 felony conviction for meth possession. (3 pages)
Shocking moment school bus bullies pummel 14-year-old boy leaving him hospitalized with head injuries 'because he'd worn a Trump 2020 hat'
Shocking video has emerged showing a 14-year-old boy being attacked on a school bus, allegedly because he'd previously worn a hat supporting President Donald Trump.
The incident occurred on November 21 in Hamilton County, Florida, and the video first emerged on Thursday after the boy's family retained attorney Foye B. Walker for possible legal action.
The incident left the boy, identified only as Tyler, hospitalized with head contusions, according to his mother, a Trump supporter who tweets under the handle @AmericanDiaries.
The attorney, Walker, verified in a tweet that the incident occurred on a school bus in Hamilton County, and that he was representing the family. He did not immediately respond to a request for comment from DailyMail.com.
The video shows vicious bullies attacking the young boy and pummeling him on the bus. His mother says the attackers were enraged he'd previously worn a Trump hat to school
The boy's mother explained on Twitter that she believed the attackers were motivated by a Trump 2020 campaign hat that her son had previously worn to school.
She said that the boy stopped wearing the hat due to harassment, but that the bullying continued.
'To be clear, my son bought his Trump 2020 hat with his own money at the flea market a few weeks ago,' the mother wrote.
'He was proud to wear it. He wore it to School, but due to immediate bullying he put it away & didn't wear it to school again, sadly the damage was already done & [he] was now a target,' she said.
'From that point on he was steadily getting messed with. He was getting hit, tripped & verbally abused on the bus, but it all came to a head yesterday on his bus ride home,' she continued.
The mother took this photo in the hospital, where the boy was evaluated for head injuries and released after the vicious five-on-one attack
The mother also shared paperwork given to the family at the hospital
She said that when Tyler was examined after the school, nurses found older bruising along with the new injuries. 'He didn't tell us about the bullying, but they took it to a new level yesterday and we are just now learning what he was going through,' she said.
Video of the attack shows at least three females and two males raining blows down on Tyler's head as he tries to protect himself from the attack.
Tyler's mother says she believes the assault was racially motivated. Tyler is white, and the assailants appear to be black.
'Plain and simple this was a hate crime and attempted murder according to the state of Florida since it was over three kids that jumped him and these kids are older and larger,' the mother tweeted.
She said that she had contacted the police and the school district, and that the children involved had been suspended from school.
https://www.wthr.com/article/trump-hat-wearing-santa-pulled-georgia-mall https://www.wthr.com/article/trump-hat-wearing-santa-pulled-georgia-mall
Trump-hat-wearing Santa pulled from Georgia mall
WAYCROSS, Ga. (First Coast News) – A Southeast Georgia Santa Claus will be looking for a new gig after the manager of the Mall at Waycross Shopping Center said the jolly one was wearing a Trump 2020 hat on duty Thursday.
Mall manager James White told First Coast News on Friday that the retailer was unaware of Jolly Old St. Nicholas' public display of his political leanings.
"We were not aware it happened," White said about a picture posted on Facebook on Thursday and shared by hundreds of Georgians in the area. "It was done completely without our knowledge," White added hours before Santa's 4 p.m. Friday shift.
"It's safe to say he will not be wearing this hat around here. This particular Santa has been replaced," White said. He became aware of the photo circulating on social media when someone shared it with him Friday morning.
"Our kids are our focus and we put a lot of hard work into this," White said. "We want children to believe in Santa for as long as they can and the spirit of giving.
Mall management was quick to respond when a customer shared the photo with them.
"We apologize for this occurrence and will be addressing this right away. The Mall at Waycross does not support any specific political party. Thank you for bringing this to our attention. Kindly, Mall Management"
https://www.foxnews.com/us/arrest-made-in-barnard-student-stabbing
New York City police have reportedly arrested a 13-year-old boy and a source on Friday told Fox News cops could soon charge two other young teens in the shocking stabbing death of a Barnard College student.
Tessa Majors, an 18-year-old freshman, was discovered unconscious with "multiple stab wounds about the body" near a staircase in Manhattan's Morningside Park just before 7 p.m. Wednesday, police said earlier this week. The president of the all-women school says she "was fatally injured during an armed robbery" attempt.
A police source told Fox News on Friday that one juvenile has been arrested and charged in the killing and is set to make a family court appearance this afternoon. The source added that a second juvenile is currently being held at a precinct and is likely to face charges, while a third is being "actively sought".
All three juveniles appear to be between 13 to 14 years old, according to the source.
"The passing of Tess Majors is an unthinkable tragedy that has shaken us to our core," Barnard College President Sian Leah Beilock said during a community gathering Thursday. "We are all grieving, and trying to grasp the senseless tragedy that took Tess from us."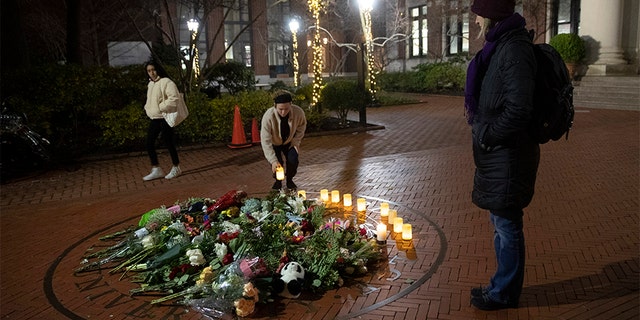 People pause and place a candle at a makeshift memorial for Tessa Majors inside the Barnard campus on Thursday. (AP)
Beilock described Majors as "an artist, a musician who played instruments, wrote songs" and had "just recently performed the first big gig in New York City."
"In high school, Tess was the leader of Creative Writing Club, volunteered for political campaigns, was a cross country runner and a musician," she added.
Mayor Bill de Blasio tweeted Thursday, following the stabbing, that the NYPD would increase its presence in the area to "keep this community safe, arrest the perpetrators and ensure NOTHING like this can happen again."
"We've lost a young woman full of potential in a senseless act of violence," he said. "I want every student and every member of faculty to know your city will be with you in the days ahead."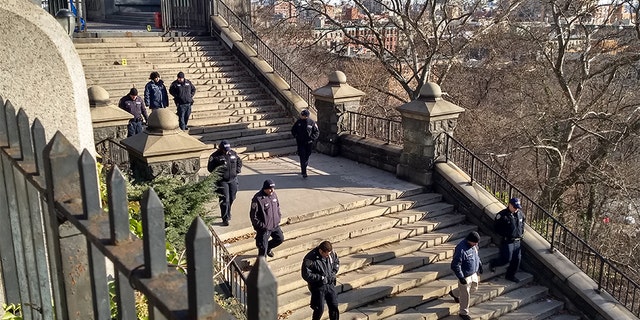 Officers from the New York City Police Department inspect a crime scene where an 18-year-old college student was stabbed to death Wednesday night. (Greg Norman/Fox News)
Barnard College, which is affiliated with Columbia University – an Ivy League institution across the street from it and also near the crime scene – has an enrollment of 2,682 undergrads, 632 of which are first-year students.
Students there told Fox News they are "apprehensive" and the community is "pretty shaken up" following the stabbing.